Renault Lodgy – IBCD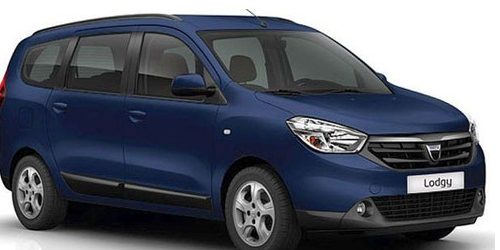 »

Renault Lodgy is manufactured by Dacia and was launched on 2012. Ranault Lodgy is also known as Dacia Lodgy in some countries. It belongs to compact multi-purpose vehicle (MPV) class and comes with 5 doors. It comes with a wheelbase of 2810 mm.Its height is 1680 mm and width is 1751 mm.It is provided with a 7 seater arrangement with lots of space.
Renault Lodgy – IBCD
Look & Feel
»

The Renault Lodgy comes with a chrome grill on the front side and the gives a good impression.The stretched out lamps at the front and tall lamps at the back gives a nice look.It is approximately 4.5 meters in length. The seats are generous and are much comfortable. It comes with a dual tone dashboard and offers much storage space too. It gives a very good driving experience. It has improved the insolation inside the cabin. It is very stable and is provided with nice brake system.It provides a huge glass area at front and gives a sense of larger area than it is. It gives a relaxed and easy going experience when you go on highways. On the suspension front the Lodgy offers an uncomplicated twist beam setup at the rear.It makes effortless overtakes and is not bothersome at potholes or in bumpy roads. The seats at the front are high and give a commanding view on to the road. It will go away the speed breakers without any issue.It offers a very massive head room even a very tall person will be quite comfortable.The feel in the interior gives a very rich experience. You can configure the seats in different variations and this makes the cabin one of the flexible in the Indian MPV (Multi-purpose Vehicle) segment.
Engine
»

The Renault Lodgy comes with a 1.5 liter K9K diesel engine with a max power of about 108 bps at 4000 rpm, powered with a torque of 245 nm at 1750 rpm. It offers a mileage of 19 kilometers per liter. It is more fuel efficient and gives good performance. The engine comes with 6 speed manual transmission, which offers you good ratios for low speed drivability in the city.
Space
»

The Renault Lodgy has 3 rows seating arrangement in it and offers a good space inside. It comes with high roof, which is quite comfortable for tall people. It offers more shoulder and leg room, which is quite comfortable for the passengers. It offers a boot space of 207 liters, when all the three rows are uplifted. But if you flip and fold the third row, you will get 589 liters of boot space. You could also completely remove the third row that provides you 759 liters of space. If you fold and tumble the second row also then you will get a massive boot space of 1861 liters.
Safety
»

The anti-lock breaking system is equipped in it for the safety of the passengers. Two air bags are provided at the front row for the driver and the co-driver. It provides seat belts to all the passengers. The Electronic Break-Force Distribution (EBD) is also provided. The brakes are applied at the instant you apply them and tiers offers more stability on ground.
Features
»

The Renault Lodgy has got all the basic features like the cup holders, mp3 player, leather wrapped gear lever, power windows etc. It comes with a good air conditioner inside and air vents are provided for all the three rows. The touch screen infotainment system provides the navigation, Bluetooth, media and other functionalities.An electrical socket is also provided inside. Nice arm rests and flip out tables are provided in the second row. It comes with new instrument cluster with LCD display.A reversing camera with parking sensors is also provided in it.
Renault Lodgy – IBCD : Photo Gallery↓